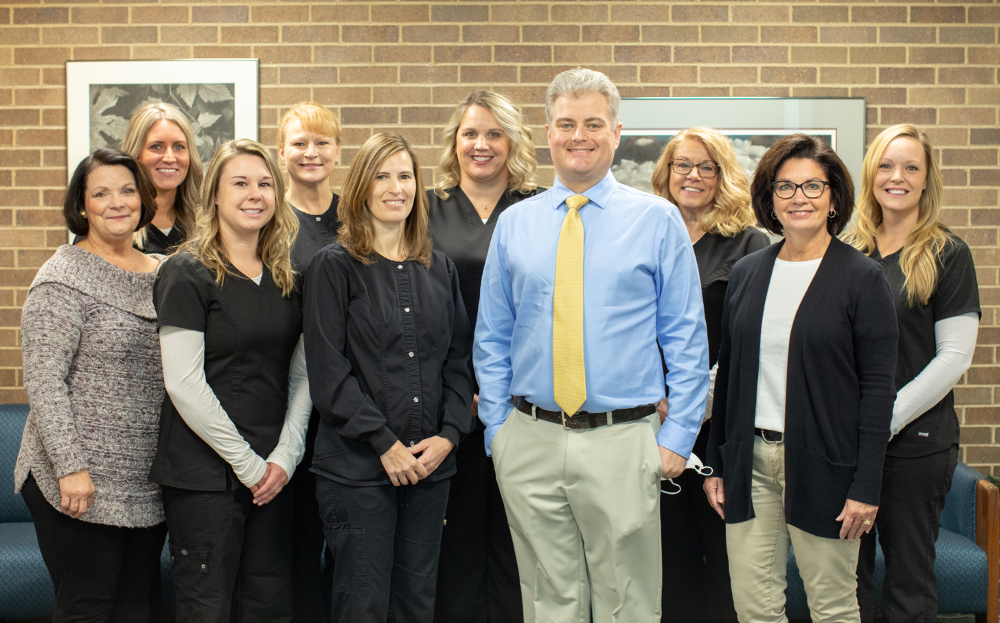 Meet the Front Office Team
Teryn
Office Manager
I care about each patient. The practice has served the community for more than 30 years and has a great reputation for personalized, family-friendly care. I've been part of the dental field since 2006 and joined the Oak Grove team in 2016. Our office feels like a big family, and our patients are a big part of that!
As our office manager, I handle a range of administrative tasks, all focused on making sure we run efficiently and smoothly. We want our patients to have positive, pleasant, and stress-free visits, and for people to know we're here to help, whatever they need.
My time off is spent with my husband, our two daughters and our son. We also have a lovable Labradoodle, Bailey. Our family enjoys biking, boating, skiing, walks in the park, and pretty much anything outdoors. We spend as many weekends as possible at our family cottage in Crivitz.
Sheena
Business Assistant/Dental Assistant
I get excited every day to meet new people and learn all about them. During visits, I ensure that patients are comfortable in the chair and prepare them to see their doctor. I then work alongside the doctor during procedures.
I graduated from the dental assisting program at NWTC in 2011 and joined Oak Grove Dentistry in 2018. I work hard to make sure our patients are happy when they leave and enjoy building a relationship with them while they're here.
Green Bay is my hometown, and I live here with my son, Maverick, who is my world. We love being outside in the summer, especially going to the park and swimming. We also enjoy taking our chocolate lab Lucy for walks.
Meet the Hygienists
Tina
Registered Dental Hygienist
I love getting to know patients. It's a great feeling to help each person develop a healthier smile and, at the same time, build a real connection with them. I've been here since 2000 and love that we care for people of all ages: providing dental care that keeps them loving their smiles!
I take X-rays, administer local anesthesia, and provide painless, detailed cleanings as well as preventive care. Working closely with each patient, I help everyone understand their oral health and how that's connected to overall wellness. Together we develop strategies to develop healthy habits and improve their home oral hygiene care.
Outside of work, I spend my free time with my husband, daughter, son, and our dog. I love watching my kids' sporting events and music recitals, and we all enjoy living a healthy, active life.
Sharon
Dental Hygienist
I like building personal relationships with patients. Helping people understand the connection between oral and overall health, and supporting them in improving both, is rewarding. I started working in the field in 1998 and joined our team in 2012. I love being part of a family-friendly practice!
I offer thorough, gentle dental cleanings, examine each patient's mouth for signs of disease, and update the medical records. A lot of my day is spent educating patients: teaching them the best ways to keep their mouth healthy and smile looking its best.
My free time is spent with my spouse, daughter, and son. I enjoy going to the gym and reading, and love traveling with my family.
Joelle
Dental Hygienist
I began my role as a dental hygienist in 1999 after dabbling a little as an assistant, receptionist, and file clerk as early as 1992. I found my home at Oak Grove Dentistry in 2017 and love it here! I help patients with their oral health needs through education, cleanings, and X-rays. I concentrate a lot on helping patients understand how their oral health and the rest of their body are connected. Most importantly, I want my patients to enjoy coming to the dentist!
Meet the Dental Assistants
Sue
Dental Assistant
I enjoy getting to know our patients and being part of their dental care team. It's important for people to understand why and how to care for their smiles and to know we have their best interests at heart. I've been part of the practice for more than 20 years and love that we care for multiple generations, from children through great-grandparents!
I bring patients into the clinic, make sure they're comfortable in the chair, and explain what we'll be doing. I stay by their side during the procedure, to assist Dr. Edwards while making sure our patient is relaxed and comfy. When we're done, I provide home care instructions and answer questions.
When I'm out of the office, I enjoy golfing and love time with my husband, our children, and our grandchildren.